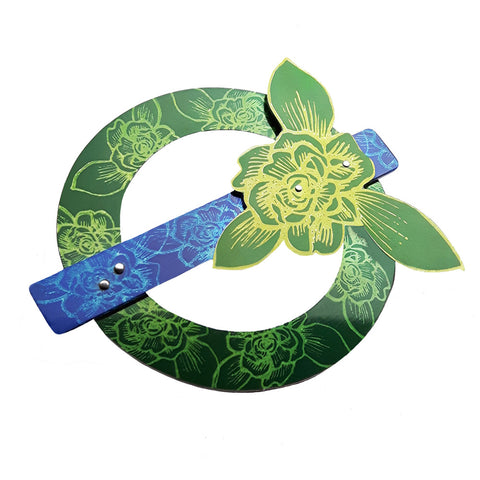 TFL Farringdon Snowdrop Brooch
The 'Farringdon Snowdrop' brooch is inspired by the story of John Groom who in the 1800's set up a mission in Clerkenwell to help disadvantaged women out of poverty by enabling them to make and sell flowers.
Th brooch has been created as part of a series of brooches for TFL's 'The brooch is back' exhibition at Craft Central. Read my blog about the concept and construction of the Farringdon Snowdrop brooch.
Prints of snowdrops surround the iconic London Underground roundal that is made from polished aluminium and hand dyed the green of the district line with the cross section blue of the Underground sign. A hand cut snowdrop adorns the side of the brooch.
The brooch is made from aluminium and has a silver brooch back.
The brooch is approx 6.5cm in diametre. To get an idea of the size of the brooch please see 'Rocky the rock hopper penguin' worn on a scarf.
Handmade in London at Cockpit Arts.
Free UK delivery.
---
We Also Recommend
---